How to Have a Healthy Diet: National Nutrition Month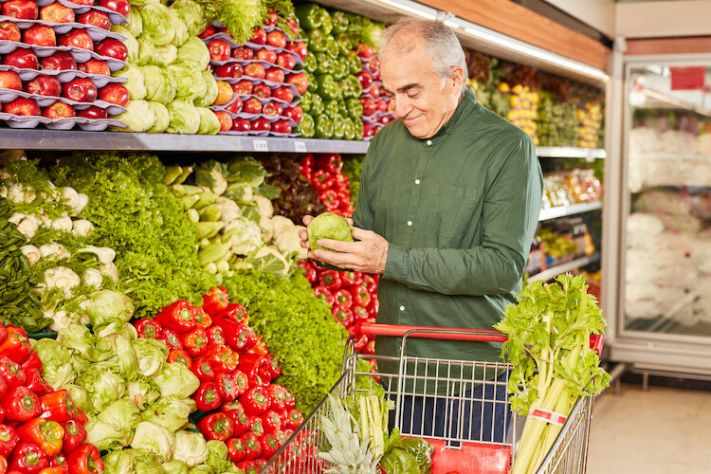 When some people consider what a "healthy diet" may be, they may think of only eating salads and juice cleanses. But that's not the case. During National Nutrition Month, we take the time to explore what a nutritious diet and healthy lifestyle truly mean.
The Academy of Nutrition and Dietetics celebrates National Nutrition Month every March to invite the public to focus on informed food choices and developing sound eating habits. The theme for 2020 is "Eat Right, Bite by Bite," which focuses on the small changes we can make to our diet that can have a positive cumulative effect over time.
Every week there's a focus on a new topic that dives deeper into healthy eating habits. Keep reading to learn all four tips we learned during the 2020 National Nutrition Month.
Nutrition Tips for Seniors We Learned During National Nutrition Month
Eat a Varity of Nutritious Foods Every Day: Eat your share of fruits, vegetables, grains, protein and dairy every day. Eating a wide variety of healthy foods is essential to your body's function and also helps prevent chronic disease.
Plan Your Meals Each Week: Rather than walking into the grocery store without a plan, research and write down your meals for the week. This way you aren't temped to buy something out of convenience or without researching the nutrition value before purchasing. Plus, it will be easier to stick to a healthy nutrition plan when you map out your meals in advance. To begin, start with something small like preparing one meal a day or planning your snacks in advance.
Learn Skills to Create Tasty Meals: Now, we aren't talking about skills necessary to get on Top Chef. But learning a few key cooking techniques gives you the opportunity to broaden your abilities and make all kinds of meals. You give yourself the power to stick to nutritious meals by keeping healthful ingredients for your meals on hand and preparing your own food.
Consult a Registered Dietitian Nutritionist (RDN): An RDN is a licensed medical professional that can share personalized nutrition advice for your needs and goals. Ask your doctor for a referral to an RDN so that they can help you thrive through the transformative power of food and nutrition.
Find Nutritious, Tasty Meals at Meadow Lakes
The dining team at Meadow Lakes aims to offer nutrition and taste in every meal they serve. Our dining options are those that you would expect to find in a fine dining restaurant, with a variety of choices on the daily menu featuring fresh and seasonal ingredients. The focus on nutrition and quality truly make our food stand apart.
Resident Brigitte Wachs shares, "The elegant dining room offers a variety of delicious menus, especially for holidays. When there is no holiday, they make one up, such as strawberry festival, blueberry festival, whatever-is-in-season festival." Our residents have a direct say in the menu choices and leave comments that help guide the culinary program.
We'd love for you to join us for a meal – contact us today with any questions you have and to schedule your personal tour.